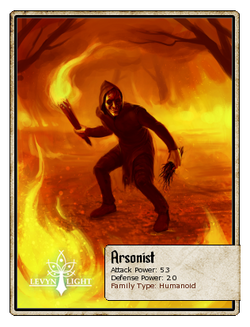 Zeruul's arsonists comprise some of the supreme overlord's less subtle minions, and are usually sent out on missions to make examples of dissenting villages (with fire) rehabilitate rouge seekers (with fire) and eliminate pesky rebel supply depots with careful diplomacy and well-placed policy changes... just kidding. They do that one with fire, too.
First Appearance: Chapter 7
Attack Power: 53
Defense Power: 20
Critical Chance: 0%
50% Chance of Burning Cocktail (+3 Attack)
Arsonist throws a jar of liquid on you, and it bursts into flames!
30% Chance of Match Flick (+5 Attack)
The Arsonist flicks a match onto a well-placed pile of greasy rags, igniting your surroundings!
Loot:
Gadget
Gold:

91 - 99
Energy Preference: None
Badges:


1

10
100
250
Ad blocker interference detected!
Wikia is a free-to-use site that makes money from advertising. We have a modified experience for viewers using ad blockers

Wikia is not accessible if you've made further modifications. Remove the custom ad blocker rule(s) and the page will load as expected.