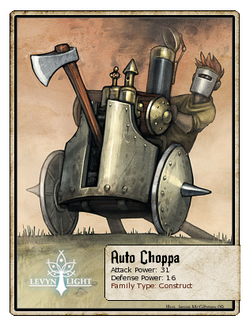 Upstart machine manufacturer Gyroratchet Industries was delighted when someone placed an order for ten thousand of their newly-patented, state of the art Auto Choppas, but they were less enthusiastic when they found out that Zeruul's undead minion, King Yorrick, was the buyer. Although they understood their machine's intended function, the technicians were less than thrilled about their valued creations being used to destroy rare trees and intimidate rebels.
First Appearance: Chapter 5
Attack Power: 31
Defense Power: 16
Critical Chance: 2%
8% Chance of Seize Up (-3 Attack)
Auto Choppa shakes and comes to a screeching halt. The Auto Choppa chops no more.
15% Chance of Overchop (+5 Attack)
Auto Choppa sputters with a sudden burst of speed! Its axe chops wildly out of control!
Loot:

Superior Energy

Sturdy Branch
Gold:

30 - 50
Energy Preference: None
Badges:


1

10
100
250
Ad blocker interference detected!
Wikia is a free-to-use site that makes money from advertising. We have a modified experience for viewers using ad blockers

Wikia is not accessible if you've made further modifications. Remove the custom ad blocker rule(s) and the page will load as expected.