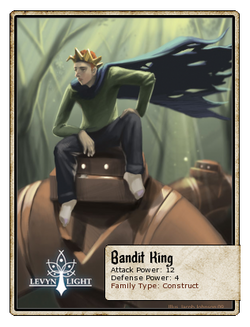 The Bandit King and his band of Goblins and Thugbots rule the Mangled Forest in the name of Zeruul, exacting phony 'taxes' from the local people and accosting travelers on the road. When Zeruul arrived in town, the Bandit King and his minions were the first ones to volunteer to burn Esert to the ground.
First Appearance: Chapter 1
Attack Power: 12
Defense Power: 4
Critical Chance: 8%
7% chance of Command and Control (+5 Attack)
Bandit King commands a thug bot to rip up a large rock and toss it at you!
10% chance of Rusty Hinges (-2 Defense)
An arm falls off the Bandit King's Thugbot! He should have oiled his fleet more regularly.
Loot:

Basic Energy

Bandit Crown
Gold:

10 - 12
Energy Preference:
Bandit King Energy
Notes:

Badges:

1

10
100
250
Ad blocker interference detected!
Wikia is a free-to-use site that makes money from advertising. We have a modified experience for viewers using ad blockers

Wikia is not accessible if you've made further modifications. Remove the custom ad blocker rule(s) and the page will load as expected.