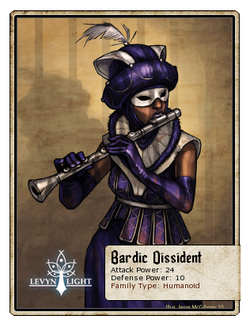 Determined members of the resistance, the Bardic Dissidents dedicate their lives to informing common folk about Zeruul's injustices through songs and stories. For a long time, their work stayed beneath Zeruul's notice, but eventually, they gained momentum, and the stories becam common lore, the songs standards. Zeruul began hunting the Bardic Dissidents, and their families, in a vain attempt to silence popular tradations.
Location(s): Kestrall's Oubliette
First Appearance: Chapter 4
Attack Power: 24
Defense Power: 10
Critical Chance: 0%
30% Chance of Cutting Verse (+2 Defense)
Bardic Dissident makes up a scathing rhyme about your personal life, momentarily distracting you.
9% Chance of Flute Flail (+8 Attack)
Bardic Dissident whacks you over the head with her flute!
Loot:
Bardic Chapeau

Superior Energy
Pungent Incense

Whitestone Shard
Gold:

171 - 209
Energy Preference: None
Badges:


1

10
100
250
Ad blocker interference detected!
Wikia is a free-to-use site that makes money from advertising. We have a modified experience for viewers using ad blockers

Wikia is not accessible if you've made further modifications. Remove the custom ad blocker rule(s) and the page will load as expected.