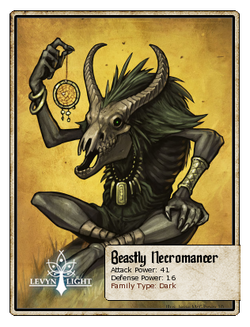 There are very few undead spry enough to control a raging beast like the Chenivore, but the Beastly Necromancers are up to the task. In life, they spent their time making pacts with amoral beings from beyond the edge of time and space, learning to control monsters with no conscience or feeling. The Chenivore is the latest in a series of twisted 'pets' that they've summoned from beyond the dream realm.
First Appearance: Chapter 5
Attack Power: 41
Defense Power: 16
Critical Chance: 0%
65% Chance of Dead Rats (+3 Attack)
Beastly Necromancer summons a horde of decaying rodents to swarm you!
40% Chance of Dark Bond (+3 Defense)
Beastly Necromancer summons a dark creature from beyond the veil to shelter their attacks!
Loot:

Whistle Energy
Gadget

Widget
Gold:

395 - 410
Energy Preference: Whistle Energy
Badges:


1

10
100
250
Ad blocker interference detected!
Wikia is a free-to-use site that makes money from advertising. We have a modified experience for viewers using ad blockers

Wikia is not accessible if you've made further modifications. Remove the custom ad blocker rule(s) and the page will load as expected.