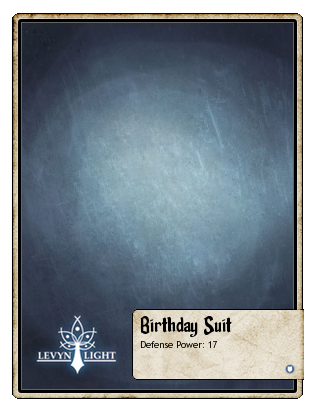 The Birthday Suit is the ultimate fashion statement. You will be the talk of the town no matter where you go and these superior threads are promised to never clash with your natural glow and skin tone. Everyone will be speechless at your bold approach to armor this season!
Location(s): None
Type:
Armor
Defense Power: 17
Critical Chance: 5%
53% Chance of Emperor's New Clothes (+3 Defense)
No one says a word, but they all keep their distance!
22% Chance of Ace! (+2 Defense)
Your enemy shows uncertainty in the face of such boldness!
Required Level: 30
Sell Value:
Obtained By:

Notes: The Birthday Suit is an obvious reference to a famous short tale The Emperor's New Clothes [1] by H. C. Andersen [2]. This is also seen from Emperor's New Clothes trait and it's description.
Ad blocker interference detected!
Wikia is a free-to-use site that makes money from advertising. We have a modified experience for viewers using ad blockers

Wikia is not accessible if you've made further modifications. Remove the custom ad blocker rule(s) and the page will load as expected.