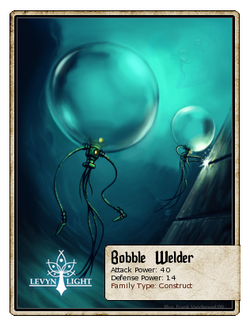 The anchoring cables and pressure doors of underwater structures are under constant strain from the relentless forces of the sea. These little aquatic machines perform the regular maintenance that is essential to the survival of Sinkbot City, ensuring that the bubble buildings don't pop. They also serve as a first line of defense against intruders, as their arc welders grow incredibly hot.
First Appearance: Chapter 6
Attack Power: 40
Defense Power: 14
Critical Chance: 5%
75% Chance of Arc Weld (+3 Defense)
Bobble Welder methodically welds the metal on your equipment to a building.
47% Chance of Repair (+5 Defense)
Bobble Welder patches up the cracks in its armor.
Loot:

Barnacled Widget

Grungy Gadget
Gold:

95 - 116
Energy Preference: None
Badges:


1

10
100
1000
Ad blocker interference detected!
Wikia is a free-to-use site that makes money from advertising. We have a modified experience for viewers using ad blockers

Wikia is not accessible if you've made further modifications. Remove the custom ad blocker rule(s) and the page will load as expected.