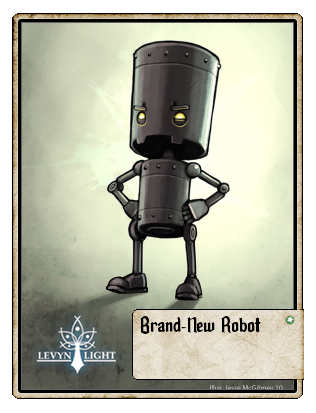 This guy has the same faithful personality as Obby, but he's got a whole new lease on life, with his new, metal body. You suggested that he now be called Brandy, but he still prefers Obby. Brandy is a girl's name.
Type: Support
Critical Chance: 0%
40% Chance of Silver Slap (+8 Attack vs Dark)
Brand-New Robot burns the forces of darkness with his pure silver palms!
60% Chance of Loyalty (+6 Attack)
Brand-New Robot, remembering the friendship you have shown him, rushes into the fray to defend you!
Required Level: 1
Sell Value: Unsellable
Obtained By:

Ad blocker interference detected!
Wikia is a free-to-use site that makes money from advertising. We have a modified experience for viewers using ad blockers

Wikia is not accessible if you've made further modifications. Remove the custom ad blocker rule(s) and the page will load as expected.