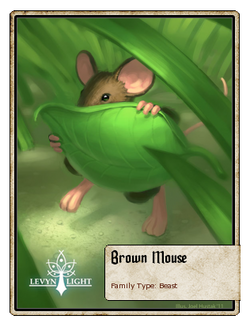 A little more challenging than its relatives, the White mouse and the Field mouse, the Brown mouse takes a bit more dedication to track down. On the bright side, at least they're not running all over the mythlands
Location(s): Salt Flats, Aznor's Clearing (during Aznor First Arrival event)
First Appearance: Chapter 9, Aznor First Arrival
Attack Power: Variable
Defense Power: Variable
Critical Chance: 3%
34% Chance of Camouflage (+3 Defence)
Brown Mouse blends in with its surroundings.
Energy Preference:
None
Notes:

Badges:
Seekers do not earn badges for this character (
more details
).
Ad blocker interference detected!
Wikia is a free-to-use site that makes money from advertising. We have a modified experience for viewers using ad blockers

Wikia is not accessible if you've made further modifications. Remove the custom ad blocker rule(s) and the page will load as expected.