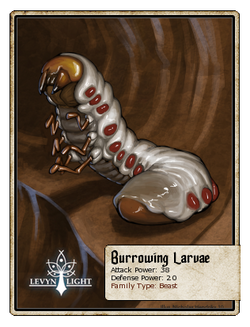 With no drill arms and less armor, Burrowing Larvae are slightly less dangerous than their grown-up relatives... but only slightly. In order to solidify their place in the hive, the larvae precede their elders in the tunnels, soaking the ground with acidic saliva to make digging easier for the adults. This saliva can also be used as a defense mechanism, to protect the precious larval energy that the immature Horrors hold within them.
First Appearance: Chapter 5
Attack Power: 38
Defense Power: 20
Critical Chance: 2%
65% chance of Acid Spit (+3 Attack)
Burrowing Larvae spits a stream of acid at you!
9% chance of Stalactite Assault (+4 Attack)
Burrowing Larvae uses their corrosive spit to bring down a stalactite on you!
Loot:

Larval Energy
Superior Energy

Rotten Banana
Gold:

24 - 44
Energy Preference: None
Badges:


1

10

100
250