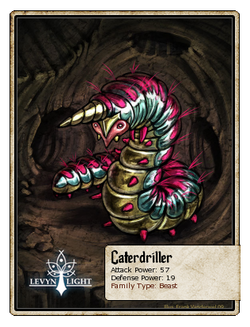 Using the rotating horn growing out of their head as a drill to bore through tightly compacted dirt, and even weak stone, Caterdrillers are able to infest any structure quickly. Although they are capable of drilling several kilometers underground when their nests are threatened, they prefer to stay above ground where they can find food and water more easily. Caterdrillers infest many country areas, but they avoid cities due to an abundance of their natural enemy: the pigeon.
Location(s): Jenner's Nest, The Salt Mines
First Appearance: Chapter 7
Attack Power: 57
Defense Power: 19
Critical Chance: 3%
72% chance of Rotary Head (+6 Defense)
Caterdriller eats away the boards beneath your feet!
20% chance of Undermine (+10 Attack)
Caterdriller tunnels into the ground to elude your attack.
Loot:
Catalyst Crystal

Stone of Summoning
Gold:

94 - 116
Energy Preference: None
Badges:


1

10
100
250
Ad blocker interference detected!
Wikia is a free-to-use site that makes money from advertising. We have a modified experience for viewers using ad blockers

Wikia is not accessible if you've made further modifications. Remove the custom ad blocker rule(s) and the page will load as expected.