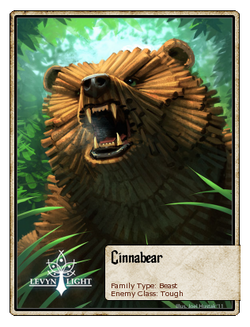 This fragrant beast makes the whole island have a memorable, holiday smell. If the bear wasn't so viscous and mean, it would be downright pleasant. As it is, he's a slobbering sack of angry teeth and claws. With that said, it only takes a couple of cinnamon sticks from his coat to make the best apple cider you've ever tasted!
First Appearance: Christmas in July
Attack Power: Variable
Defense Power: Variable
Family Type: Beast
Enemy Class: Tough
Critical Chance: 2%
23% chance of Fresh Roar (+4 Attack)
Cinnabear looks at you and roars ferociously with the sweetest smelling breathe around!
Energy Preference: None
Badges: Seekers do not earn badges for this character (more details).
Ad blocker interference detected!
Wikia is a free-to-use site that makes money from advertising. We have a modified experience for viewers using ad blockers

Wikia is not accessible if you've made further modifications. Remove the custom ad blocker rule(s) and the page will load as expected.