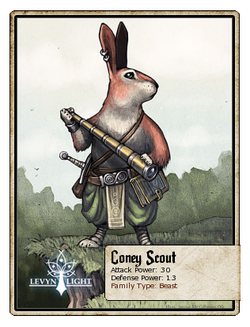 Prone to panic at the slightest provocation, Coney Scouts maintain a constant lookout for danger. Peron Rihn has tried to recruit them into the Forest Rangers, but while they continue to be helpful to the rebellion and fight Zeruul's agents, they remain reclusive and suspicious of any incursions into their territory.
First Appearance: Chapter 5
Attack Power: 30
Defense Power: 13
Critical Chance: 8%
40% Chance of Spot Advance (+3 Defense)
Always on guard, Coney Scout spots you coming and stealthily avoids you.
10% Chance of Dodge (+5 Defense)
Coney Scout dodges at the last minute.
Loot:

Superior Energy

Sturdy Branch
Gold:

42 - 55
Energy Preference: None
Badges:


1

10
100
250
Ad blocker interference detected!
Wikia is a free-to-use site that makes money from advertising. We have a modified experience for viewers using ad blockers

Wikia is not accessible if you've made further modifications. Remove the custom ad blocker rule(s) and the page will load as expected.