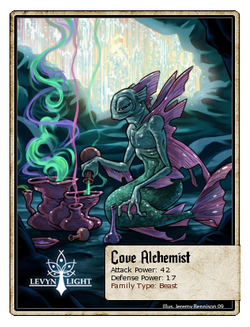 A member of the elusive society of Merfolk who live in the brackish water of the Cove, the Alchemist can concoct almost any type of magical potion from the fruits of the sea. Alchemists used to sell their potions to passing ships, but their beauty attracted too much negative attention. After narrowly escaping a fisherman who wanted to sell them to the New Feron circus, they decided to live a reclusive life in deep sea caves, using their alchemy only to protect the other merfolk from harm.
Location(s): Daphne Cove, Sinkbot City
First Appearance: Chapter 6
Attack Power: 42
Defense Power: 17
Critical Chance: 5%
20% Chance of Red Vial (+3 Defense)
Cove Alchemist throws a red vial on the ground near you. A burst of flame erupts from the shattered vial and covers you in a blanket of thick greasy smoke.
20% Chance of Brown Vial (+4 Defense)
Cove Alchemist rubs a brown vial of liquid on her skin. Reacting quickly, it appears that her skin develops a thin translucent layer of armor.
35% Chance of Blue Vial (+4 Attack)
Cove Alchemist drinks a blue vial of liquid. In a blur of speed, they deliver a flurry of tail whips!
10% Chance of Fumble (-5 Attack)
Cove Alchemist accidentally drops some vials, shattering them on the ground at their feet. This can't be good...
Energy Preference: None
Badges:


1

10
100
250
Ad blocker interference detected!
Wikia is a free-to-use site that makes money from advertising. We have a modified experience for viewers using ad blockers

Wikia is not accessible if you've made further modifications. Remove the custom ad blocker rule(s) and the page will load as expected.