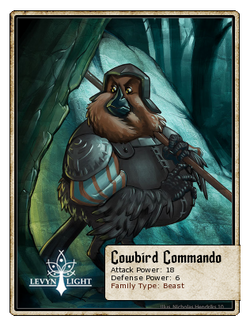 Wherever you go in Grevel Nub Arbor, you'll find a swarm of Cowbird Commandoes, jostling each other for position. Cowbirds like to 'flock together' with the other birds, enjoying their fair share of the Arbor's Grub Grog stores while they do. Captain Kestrall likes them because their sociability makes them more than a little bit gullible. If every other Cowbird Commando jumps off a cliff, it's likely that last one left teetering on the edge will do it, too.
First Appearance: Chapter 3
Attack Power: 18
Defense Power: 6
Critical Chance: 0%
20% chance of Sloth Flock (+5 Attack)
Cowbird Commando calls for his friends, causing a pile of chunky Cowbirds to leap out of the trees on top of you.
Energy Preference: None
Badges:


1

3
6
10
Ad blocker interference detected!
Wikia is a free-to-use site that makes money from advertising. We have a modified experience for viewers using ad blockers

Wikia is not accessible if you've made further modifications. Remove the custom ad blocker rule(s) and the page will load as expected.