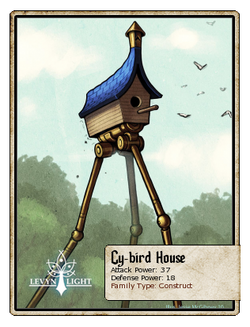 Once, there was an eccentric inventor who enjoyed making elaborate bird houses in his spare time. Frustrated with losing his tenants to migration, he made a state-of-the-art birdhouse that seeks out new tenants after it is vacated. The final product was a marvel, able to walk, talk and issue hundreds of bird calls. What the inventor didn't count on, however, is that birds tend to avoid large, clanking monstrosities that chase them.
First Appearance: Chapter 5
Attack Power: 37
Defense Power: 18
Critical Chance: 0%
75% Chance of Loud Whistle (+2 Attack)
Cy-bird House lets out a loud whistle, hurting your ears!
15% Chance of Shove (+3 Attack)
Cy-bird House runs right over you, knocking you to the ground!
Loot:
Gadget
Noise Maker

Widget
Gold:

27 - 49
Energy Preference: None
Badges:


1

10
100
250
Ad blocker interference detected!
Wikia is a free-to-use site that makes money from advertising. We have a modified experience for viewers using ad blockers

Wikia is not accessible if you've made further modifications. Remove the custom ad blocker rule(s) and the page will load as expected.