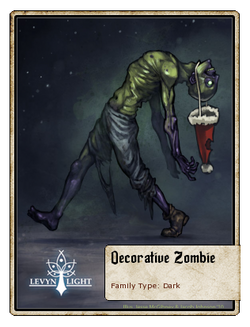 This Degenerate Zombie most likely gained its festive hat during a struggle with a victim who was merely trying to celebrate the Festival of Giving. The ensuing struggle somehow tangled the hat around the Decorative Zombie's neck, which is a source of annoyance for this now-grumpier zombie.
Location(s): All (during Jolly Holidays); Blizzard Epicenter (during Fire vs Ice)
First Appearance: Jolly Holidays
Attack Power: Variable
Defense Power: Variable
Critical Chance: 6%
85% chance of Bah! Humbug! (+6 Attack)
The Decorative Zombie becomes enraged from the frustratingly-entangled hat around its neck.
Loot:
Peppermint Potion

Blizzard Energy
Gold:

200 - 400
Energy Preference:
None
Alternative Version(s):

Degenerate Zombie (original)
Badges: Seekers do not earn badges for this character (more details).