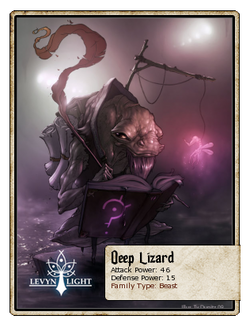 Usually found levitating above the ground in remote areas, pondering the universe, Deep Lizards are ascetics in self-imposed exile from Fontis Sapienta. Part of a group which has taken a vow of silence, they believe that through meditation and simple living, they will find warmth in the cold and light in the darkness. Of course, until that happens, a fairy on a stick will suffice.
Location(s): Citrine Heart Grotto
First Appearance: Chapter 6
Attack Power: 46
Defense Power: 15
Critical Chance: 3%
6% chance of Research (+8 Attack)
Deep Lizard is well versed in the weaknesses of Seekers, and knows how to exploit them.
62% chance of Meditation (+4 Defense)
Deep Lizard shrugs off the problems of the universe by sinking into silent meditation.
90% chance of Pen Jab (+3 Attack)
Deep Lizard jabs you with his quill!
Familiar's Seal (+10 Defense vs Precise)
The Citrine Heart Vine has cast a protective seal over its familiars, blocking any precise aim!
Energy Preference: None
Badges:


1

10

100
250