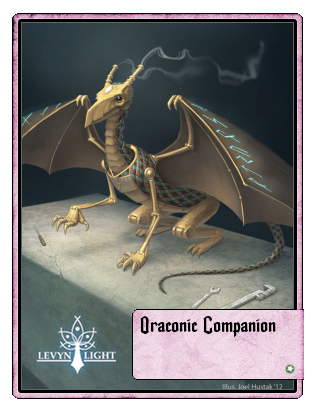 Constructed with the ingenuity of a Scientist, the magic of a Starmage, and the persistence of a Seeker, a creature of this sort has never before been seen in the Mythlands. The knowledge of the dragons that is magically bound to the scales will help you defeat your enemies. The nigh impervious constructon will help your companion defend you from all attacks. And the unique qualities of the Seeker energy you yourself put into the construct will help you learn from its mistakes and successes as well as your own.
Type: Support
Critical Chance: 5%
76% chance of Draconic Knowledge (+32 Attack)
Your companion accesses the knowledge of the dragons from within its scales.
54% chance of Impervious (+10 Defense)
Technological superiority plus magical excellence and a dash of Seeker skill make your companion all but indestructible.
50% chance of Shared Experience (+20% XP)
You companion shares what has learned from this battle with you. (Adds 20 attack)
Required Level: 40
Sell Value: Unsealable but Tradeable and Giveable.
Obtained By: Purchaseable at the Premium Shop for 150 Seeker Silver from February 2 to March 8, 2012.
Ad blocker interference detected!
Wikia is a free-to-use site that makes money from advertising. We have a modified experience for viewers using ad blockers

Wikia is not accessible if you've made further modifications. Remove the custom ad blocker rule(s) and the page will load as expected.