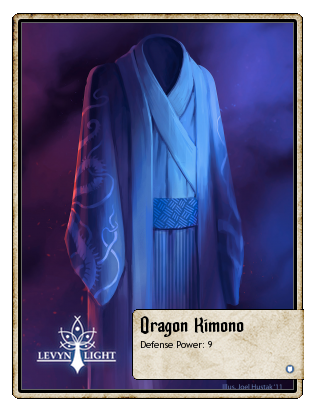 This Kimono provides freedom of movement while the magically embroidered dragon on the sleeve imbues it with additional protection for its wearer. Its simple and elegant design is ideal for relatively new players looking for an extra edge against their enemies.
Type:
Armor
Defense Power: 9
Critical Chance: 2%
15% Chance of Fire Breather (+4 Defense)
The Dragon on your kimono comes to life and flames your enemies!
Required Level: 14
Sell Value: Unsaleable but Tradeable and Giveable.
Obtained By: Purchase from Caravan Bazaar in Aznor's Clearing for 15000 Gold.
Notes: During LevynLight 1st Anniversary it costed 12000 Gold.
Ad blocker interference detected!
Wikia is a free-to-use site that makes money from advertising. We have a modified experience for viewers using ad blockers

Wikia is not accessible if you've made further modifications. Remove the custom ad blocker rule(s) and the page will load as expected.