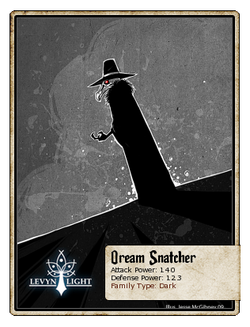 Beware he who walks upon the cold and colourless plane of nightmares, for with buzzard maw and razor talon, he will steal your hopes away.
First Appearance: Chapter 12
Attack Power: 140
Defense Power: 123
Critical Chance: 5%
42% chance of Siphon (+7 Attack)
Dream Snatcher leeches the colour from your mind, leaving them sad and depressed.
10% chance of Nightmare Grip (+12 Defense)
Dream Snatcher petrifies you with terrifying nightmares.
83% chance of Selaphobia (-32 Attack)
Description Unknown, Please Add
Loot: 15 x

Bottled Shadow, 15 x
Superior Energy
Gold:

15000 - 17000
Energy Preference: None
Badges:


1

3

5
10