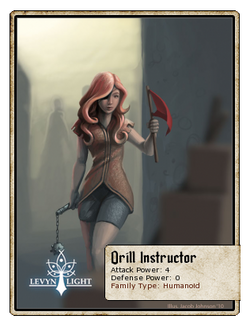 Despite her striking red hair, Enrick's Drill Instructor is the kind of girl who enjoys blending into the crowd -- in fact, blending is her job. For years she has cultivated the art of camouflage, learning how to deflect Seeker magic and sneak by enemies unnoticed. The Drill Instructor is also a master of sleight of hand, so don't concentrate on that flag she's waving too long. You may just find yourself knocked in the head with her practice mace.
First Appearance: Chapter 1
Attack Power: 4
Defense Power: 0
Critical Chance: 0%
Traits: None
Loot:

Copper Ring

Flag (during the quest Capture the Flag)
Gold:

5 - 15
Energy Preference:
None
Alternative Version(s):

Tournament Spectator (repaint)
Badges:


1

10
100
250
Ad blocker interference detected!
Wikia is a free-to-use site that makes money from advertising. We have a modified experience for viewers using ad blockers

Wikia is not accessible if you've made further modifications. Remove the custom ad blocker rule(s) and the page will load as expected.