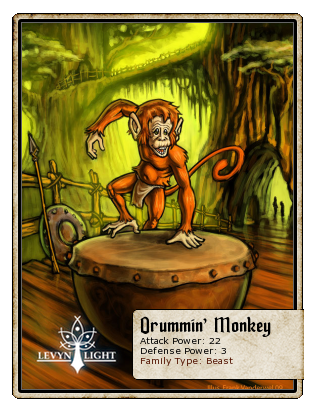 This master of percussion spends most of his days playing for bananas from passerby. You can find him just hanging out of his tree (from his tail, of course) or making the funkiest of beats with his hands and his feet.
First Appearance: Chapter 3
Attack Power: 22
Defense Power: 3
Critical Chance: 0%
25% chance of Instinctual Reflexes (+3 Def. vs. Strong)
With their forest-born instincts, Drummin' Monkey senses your attack long before you strike!
Loot:

Rotten Banana

Whitestone Shard
Gold:

21 - 30
Energy Preference: None
Badges:


1

10
100
250
Ad blocker interference detected!
Wikia is a free-to-use site that makes money from advertising. We have a modified experience for viewers using ad blockers

Wikia is not accessible if you've made further modifications. Remove the custom ad blocker rule(s) and the page will load as expected.