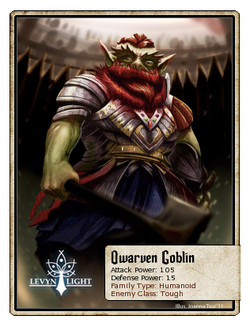 This Goblin bears the stalwart determination of his ancestors. What he lacks in finess, he makes up for in brute strength. Heftier and a bit slower than others of his race, he was often mocked in his youth. When he picked up a club though, all laughter stopped.
First Appearance: Chapter 13
Attack Power: 105
Defense Power: 15
Family Type: Humanoid
Enemy Class: Tough
Critical Chance: 2%
Champion's choice (+100 Defense vs Fire, Ice, Arcane)
Dwarven Goblin has selected to fight as you are or with a Shock weapon only!
Duel! (+100 Attack vs Fire, Shock, Ice, Arcane)
Best to attack Dwarven Goblin with nothing but a basic weapon!
Loot:

Goblin Aristocrat Volt
Gold:

300 - 340
Energy Preference:

Static Volt
Badges:


1

10
100
250
Ad blocker interference detected!
Wikia is a free-to-use site that makes money from advertising. We have a modified experience for viewers using ad blockers

Wikia is not accessible if you've made further modifications. Remove the custom ad blocker rule(s) and the page will load as expected.