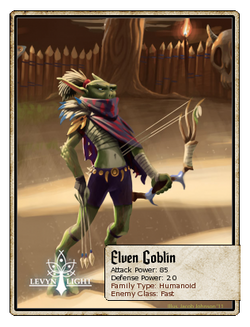 This Goblin is as beautiful as she is deadly among the rest of her kind. Having an Elven heritage, she is smarter than most of her opponents and faster, too! She understands how to wield more advanced weapons with fatal results. She has no respect for the Goblin aristocrats that hide in the safety of the arena seats rather than defend their honor like true Elves would.
First Appearance: Chapter 13
Attack Power: 85
Defense Power: 20
Family Type: Humanoid
Enemy Class: Fast
Critical Chance: 3%
Challenge! (+100 Attack vs Fire, Shock, Ice, Arcane)
Best to attack Elven Goblin with nothing but a basic weapon!
Champion's Choice (+100 Defense vs Fire, Ice, Arcane)
Elven Goblin has selected to fight as you are or with a Shock weapon only!
Energy Preference: Goblin Champion Volt
Badges:


1

5
10
15
Ad blocker interference detected!
Wikia is a free-to-use site that makes money from advertising. We have a modified experience for viewers using ad blockers

Wikia is not accessible if you've made further modifications. Remove the custom ad blocker rule(s) and the page will load as expected.