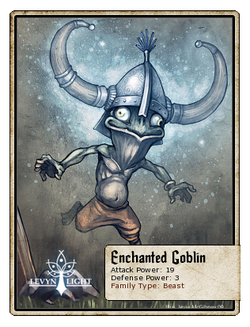 Every once in a while, a lucky Goblin will stumble upon a long forgotten relic imbued with magical properties. Such a wonderful discovery can send even the grumpiest Gob into a fit of joyous celebration. There's nothing better than a shiny thing that you can wear on your head.
First Appearance: Chapter 1
Attack Power: 19
Defense Power: 3
Critical Chance: 7%
34% chance of Electric Shock (+12 Attack)
Enchanted Goblin hops around as electrical sparks crackle all around him.
10% chance of Self Combustion (-45 Attack)
Enchanted Goblin screams as he accidentally lights himself on fire.
12% chance of Blind (+10 Defense)
Enchanted Goblin cackles as a bright light blinds you for a moment.
Loot:

Basic Energy
Gold:

40 - 60
Energy Preference:
None
Alternative Version(s):

Goblin of Fire

Goblin of Earth

Goblin of Metal

Goblin of Water

Goblin of Wood
Badges: Seekers do not earn badges for this character (more details).
Ad blocker interference detected!
Wikia is a free-to-use site that makes money from advertising. We have a modified experience for viewers using ad blockers

Wikia is not accessible if you've made further modifications. Remove the custom ad blocker rule(s) and the page will load as expected.