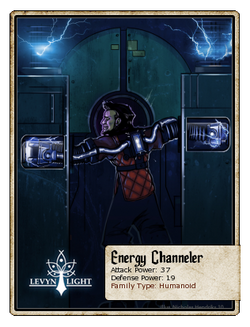 Electricity is a dangerous new source of power, in more than one sense, and Zeruul is desperate not to let anyone in the resistance get their hands on any. As a result, the Hammer Falls power station crew has rigged up an unusual security system. Wearing special suits that allow them to act as human circuits, the Energy Channelers ensure that none of Zeruul's precious power flows to an unauthorized utility by overseeing all energy transfers.
First Appearance: Chapter 5
Attack Power: 37
Defense Power: 19
Critical Chance: 0%
50% Chance of Charged Punch (+3 Attack)
Energy Channeler punches you, sending energy coursing through your body!
10% Chance of Electrocution (+4 Attack)
Energy Channeler throws you into an open stream of electricity!
Loot:
Gadget

Generator Sparks

Widget
Gold:

35 - 50
Energy Preference: None
Badges:


1

10
100
250
Ad blocker interference detected!
Wikia is a free-to-use site that makes money from advertising. We have a modified experience for viewers using ad blockers

Wikia is not accessible if you've made further modifications. Remove the custom ad blocker rule(s) and the page will load as expected.