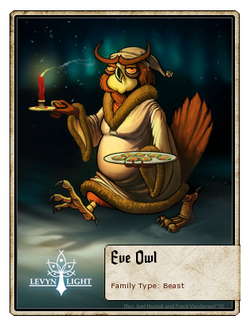 What's that jingling in the distance? It sounds like Santa's sleigh, but alas, it's only the bell on the Eve Owl's nightcap. These sleepy celebrants of the feast of giving hibernate until the first snowfall, when they wake up and act as stewards for Santa Greensleeves. Although they may seem lazy, their speed, and their intelligence, grows exponentially when there's candy around.
Location(s): All
First Appearance: Jolly Holidays
Attack Power: Variable
Defense Power: Variable
Critical Chance: 0%
35% chance of Sugar Rush (+3 Attack)
Eve Owl pulls a candy out of its pocket and scarfs it down, then attacks you with renewed vigor.
80% chance of Long Winter's Nap (+1 Defense)
Eve Owl falls into such a deep sleep that even a bonk on the noggin won't wake it up!
Loot:

Peppermint Potion
Gold:

75 - 125
Energy Preference:
None
Alternative Version(s):
Night Owl
Notes: Larger Version
Badges: Seekers do not earn badges for this character (more details).
Ad blocker interference detected!
Wikia is a free-to-use site that makes money from advertising. We have a modified experience for viewers using ad blockers

Wikia is not accessible if you've made further modifications. Remove the custom ad blocker rule(s) and the page will load as expected.