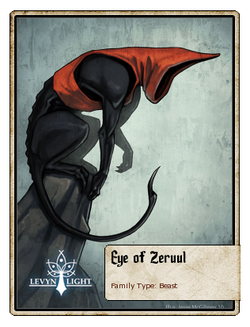 The chilling howls of the Eyes of Zeruul echo over long distances, filling the very air with menace. The Eyes perch on high, craggy peaks, just out of view, watching creatures like hawks ready for the final dive. These beasts can see energy, and especially Seeker Stone energy, even if it is almost over the horizon. Defeat an Eye quickly, and above all, quietly- if it has time to howl, other Children of Zeruul will come running.
Location(s): Various (more details)
First Appearance: Chapter 5
Attack Power: Variable
Defense Power: Variable
Critical Chance: 2%
92% Chance of Chilling Howl (+1 Attack)
The Eye of Zeruul howls, chilling your blood!
35% Chance of Stinger (+2 Attack)
The Eye of Zeruul stings you with its barb-like tail!
Loot: Various (more details)
Gold:

125 - 150
Energy Preference: None
Badges: Seekers do not earn badges for this character (more details).
Ad blocker interference detected!
Wikia is a free-to-use site that makes money from advertising. We have a modified experience for viewers using ad blockers

Wikia is not accessible if you've made further modifications. Remove the custom ad blocker rule(s) and the page will load as expected.