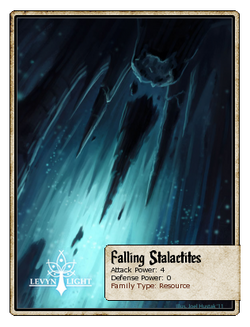 Travelling through caverns is dangerous enough with all the passageways you could get lost in. Put on top of that a giant, falling stalactite directly overhead and you've got a recipe for disaster. If that weren't enough, just remember that the echoing sound of the first one falling usually causes a chain reaction.
First Appearance: Chapter 9
Attack Power: 4
Defense Power: 0
Critical Chance: 0%
8% chance of Loud Echo (+4 Attack)
A loud echo causes more Falling Stalactites.
Energy Preference:
None
Alternative Version(s):

Falling Icicles (repaint)
Badges:


1

10

100
250