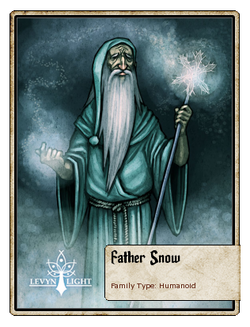 In Magic Faction territory, the last snowfall of the year brings an event known as the 'Gift Fall'. During the Gift Fall, the children gather outside in the street to watch Father Snow fly by on a flurry of crystal snowflakes. As he waves his staff, the falling snow turns into presents for each boy and girl, which gently drift down to earth. Father Snow gives gifts to every child, whether they have been good or not, as symbol of the gift of freedom everyone shares because of Philima's protection.
Location(s): All
First Appearance: Jolly Holidays
Attack Power: Variable
Defense Power: Variable
Critical Chance: 5%
50% chance of Gift drop (+3 Defense)
Father snow showers the area in gifts. Unfortunately, you receive a giant snowball in the face!
75% chance of Snow Flurry (+1 Defense)
The flurries around Father Snow are too thick for you to navigate!
Loot:

Winter Wand

White Gift Box
Gold:

10 - 40
Energy Preference:
None
Notes: Larger Version
Badges: Seekers do not earn badges for this character (more details).