Ad blocker interference detected!
Wikia is a free-to-use site that makes money from advertising. We have a modified experience for viewers using ad blockers

Wikia is not accessible if you've made further modifications. Remove the custom ad blocker rule(s) and the page will load as expected.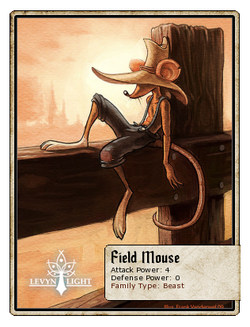 A few years back, some enterprising mice discovered that helping with the harvest could be much more lucrative than trying to steal from the grain bins. Although their size prevents them from doing any hard labor, Field Mice are major time savers when it comes to planting, pruning or struggling with those pesky stems at harvest time. They also work cheap -- instead of paying them in gold, farmers can just toss them some potatoes for the long winter months.
Location(s): Ted's Farm, Aznor's Clearing, Salt Flats
First Appearance: Chapter 1
Attack Power: 4
Defense Power: 0
Critical Chance: 6%
Traits: None
Energy Preference: None
Badges:


1

25

100
250