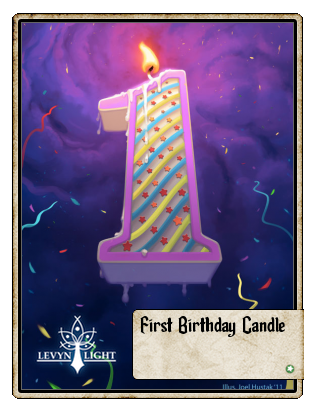 This Birthday Candle is not only made of wax, but full of birthday spirit! The mere presence of this Birthday Candle is said to cause Kestrall to dance, Chenivores to sing, and the Vrilya Chosen to smile! Who can resist such a wonderful tribute to Levynlight's first birthday?
SPECIAL NOTE: This Birthday Candle is not meant to be celebrated alone! It can only stay lit and offer you its aid if you have two Seeker friends to join in the festive spirit!
Type: Support
Critical Chance: 10%
92% chance of Mona Lisa Smile (+3 Defense)
Was that?...is it?...no...maybe?Your enemy doesn't know if your smiling or not!
87% chance of Bird Song (+2 Attack)
Your enemy is distracted as the heavens part and birds sing for LevynLight's first birthday!
75% chance of Lord of the Dance! (+2 Attack)
Your enemy is too busy dancing to see your attack!
Required Level: 1
Sell Value: Unsaleable
Obtained By: Reward for completing the Party Crashers! quest during LevynLight 1st Anniversary event.
Notes: You can't use this item if you don't have at least two friends who play LevynLight.
Ad blocker interference detected!
Wikia is a free-to-use site that makes money from advertising. We have a modified experience for viewers using ad blockers

Wikia is not accessible if you've made further modifications. Remove the custom ad blocker rule(s) and the page will load as expected.