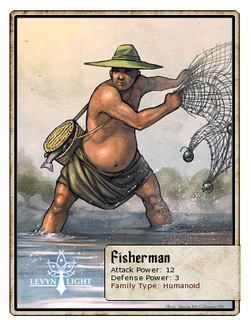 In Kurston, fishing from the river is a trade that has been passed down from generation to generation, for as long as the village storytellers can recall. Kurston's fishermen work as a collective, banding together to net the biggest possible catch, and ensuring that enough fish are left in the water to ensure a decent harvest next season. Without its fishermen, Kurston, like yesterday's catch, would dry up in the sun.
First Appearance: Chapter 2
Attack Power: 12
Defense Power: 3
Critical Chance: 14%
62% chance of Net (+4 Attack)
Fisherman tosses his net over you, causing you to get tangled up.
17% chance of Patience (+6 Defense)
Fisherman waits patiently for you to fall into his trap.
Energy Preference: None
Badges:


1

10
100
250
Ad blocker interference detected!
Wikia is a free-to-use site that makes money from advertising. We have a modified experience for viewers using ad blockers

Wikia is not accessible if you've made further modifications. Remove the custom ad blocker rule(s) and the page will load as expected.