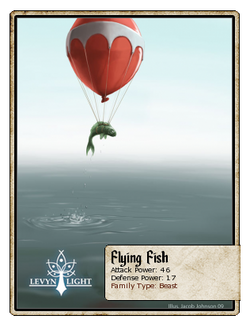 This may not have been this fish's most intelligent idea, but you've got to respect someone who chases their dreams.
Location(s): Sinkbot City, Ivory Spires of Bont
First Appearance: Chapter 6
Attack Power: 46
Defense Power: 17
Critical Chance: 1%
90% chance of Drift (+4 Defense)
Flying Fish slowly floats off into the distance.
50% chance of Updraft (+5 Attack)
A sudden gust of wind pulls Flying Fish up and out of your reach!
Loot:

Barnacled Widget

Grungy Gadget
Gold:

97 - 117
Energy Preference: None
Badges:


1

10
100
250
Ad blocker interference detected!
Wikia is a free-to-use site that makes money from advertising. We have a modified experience for viewers using ad blockers

Wikia is not accessible if you've made further modifications. Remove the custom ad blocker rule(s) and the page will load as expected.