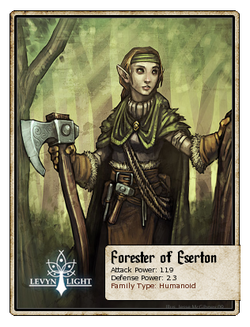 This Elven Forester has long forgotten the ways of her people when technology came to Eserton. Needing enough gold to keep a roof over her head, she took up her axe and began the process of deforesting the land. Now on the very outskirts of town, she is a rare sight indeed, as she works from where the sun rises until it sets.
First Appearance: Chapter 13
Attack Power: 119
Defense Power: 23
Critical Chance: 3%
10% chance of Axe Swing (+15 attack)
Forester of Eserton uses their axe to attack you.
Loot: 1 x

Seeker Silver Chest, 10 x

Ultra Volt
Energy Preference:

Static Volt
Alternative Version(s):

Elven Forester (past)
Notes: This is a rare character with a 1/700 encounter rate [1].
Badges:


1

3
5
10
Ad blocker interference detected!
Wikia is a free-to-use site that makes money from advertising. We have a modified experience for viewers using ad blockers

Wikia is not accessible if you've made further modifications. Remove the custom ad blocker rule(s) and the page will load as expected.