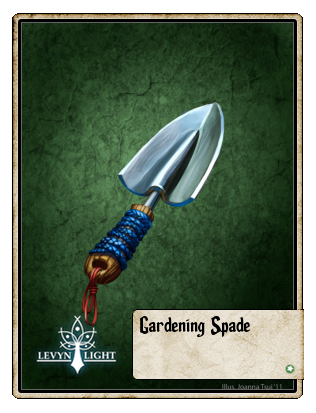 This gardening spade may seem rather dull and ordinary, but how else are you supposed to plant a lovely, new tree? There's nothing wrong with getting your hands a lil' dirty. Whether taking out the Shadow's henchmen or getting some dirt under your nails, it's good to have the tools of the trade!
Type: Support
Critical Chance: 4%
This spade is obviously one of a kind!
84% Chance of Wide Edge (+10 Defense)
The Gardening Spade can be angled to act like a shield!
Required Level: 1
Sell Value: Unsaleable
Obtained By: Purchasing from The General Store in Eserton for 50000 Gold after completion of The Seeker Scoop Quest.
Ad blocker interference detected!
Wikia is a free-to-use site that makes money from advertising. We have a modified experience for viewers using ad blockers

Wikia is not accessible if you've made further modifications. Remove the custom ad blocker rule(s) and the page will load as expected.