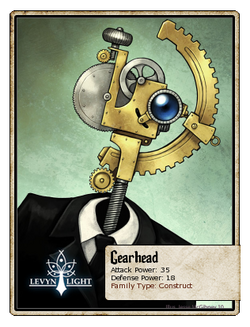 New Feron is best known as the producer of war machines and labor-saving devices for the busy farmer, but the real scope and variety of the robots commonly used within the city goes far beyond the harvest. The Gear Head's are one example of these unorthodox constructs. With heads that act as a cross between a stock-ticker and an abacus, they manage Zeruul's finances and account for all his weapon's stockpiles.
First Appearance: Chapter 5
Attack Power: 35
Defense Power: 18
Critical Chance: 2%
90% chance of Disbelief (+10 Defense vs Enchanted)
The Gearhead's grim practicality repels your enchantments!
75% chance of Intruder Alert! (+4 Attack)
Gearhead grabs you by the collar, thinking you're a thief! He's right, but it's still very embarrassing!
Loot:

Ammunition Belt

Whitestone Shard
Gold:

20 - 55
Energy Preference: None
Badges:


1

10

100
250