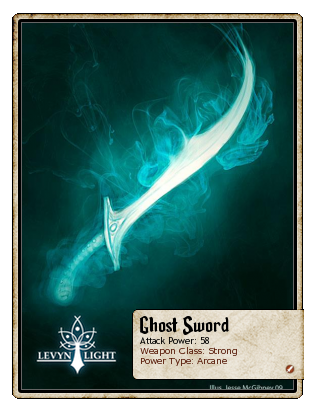 In order to keep your wits about you in the murky depths of the Haunted Ruins, it might be necessary to carry a weapon of arcane power to ward off the evil intentions of the monstrous creature lurking within. For this purpose, you commissioned the wizards of Fontis Sapienta to imbue this sword with spectral energy. You have to admit, it is a little unnerving - it seems to have developed a mind of its own and now floats about as though wielded by invisible hands, attacking enemies whether you ask it or not.
Type:
Weapon
Attack Power: 58
| | | | | | |
| --- | --- | --- | --- | --- | --- |
| Mastery Level | 1 | 2 | 3 | 4 | 5 |
| Attack Power | 64 | 71 | 78 | 85 | 94 |
Critical Chance: 6%
66% chance of The Consumed! (-5 Defense)
You have lowered you guard just for a second allowing the dark forces of the Ghost Sword to take over.
56% chance of Deflected (+5 Defense)
Your opponent strikes at you, but your Ghost Sword deflects the attack.
38% chance of Blinding Swipe (+6 Attack)
Your Ghost Sword takes a swipe at your opponent in a brilliant flash of light.
Required Level: 1
Sell Value: Unsaleable
Obtained By:

Alternative Version(s):

Ghost Sword (character),

Tainted Ghost Sword
Ad blocker interference detected!
Wikia is a free-to-use site that makes money from advertising. We have a modified experience for viewers using ad blockers

Wikia is not accessible if you've made further modifications. Remove the custom ad blocker rule(s) and the page will load as expected.