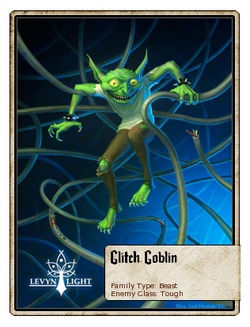 This little mischievous critter loves to find some of the most important aspects of the game...and break them!
It tirelessly plays day and night and enjoys the taste of insulated wiring. They're surprisingly strong and tenacious for their size! When they strike, it is the combined efforts of Seekers seeking them out and HitGrab squashing them out with out big, left boots that gets the game running back like it should!
Location(s): Agelink, Ecorae, Esert Village, Fontis Sapienta, Ivory City, New Feron, Pallid Peaks
First Appearance: Chapter 1
Attack Power: Variable
Defense Power: Variable
Family Type: Beast
Enemy Class: Tough
Critical Chance: 3%
1% chance of ERROR 504 (+1000 Defense)
Glitch Goblin makes a get away while your Seeker Stone grows dim!
23% chance of Gnawed Wires (+12 Attack)
Glitch Goblin gnaws through the server wires!
Energy Preference:
None
Notes: Link to Painting Video
Badges: Seekers do not earn badges for this character (more details).
Ad blocker interference detected!
Wikia is a free-to-use site that makes money from advertising. We have a modified experience for viewers using ad blockers

Wikia is not accessible if you've made further modifications. Remove the custom ad blocker rule(s) and the page will load as expected.