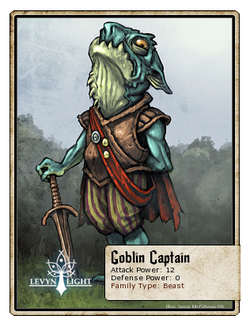 A step above their brethren in intelligence and cunning, these proud Goblins command their underlings with ruthless efficiency and tact.
They always procure the best of the plunder for themselves, for the more loot a Goblin possesses, the more power he will wield.
Location(s): Mangled Forest, Forest Hideout
First Appearance: Chapter 1
Attack Power: 12
Defense Power: 0
Critical Chance: 5%
25% chance of Tactical Ambush (+7 Attack)
Goblin Captain makes a quick gesture and suddenly dozens of Goblins dash out of their hiding places and swarm you!
31% chance of Cunning Defense (+3 Defense)
Goblin Captain orders his allies to form a crafty defensive formation!
Loot:

Bandit King Energy

Goblin Medal
Gold:

14 - 18
Energy Preference: Goblin Captain Energy
Badges:


1

10
100
250
Ad blocker interference detected!
Wikia is a free-to-use site that makes money from advertising. We have a modified experience for viewers using ad blockers

Wikia is not accessible if you've made further modifications. Remove the custom ad blocker rule(s) and the page will load as expected.