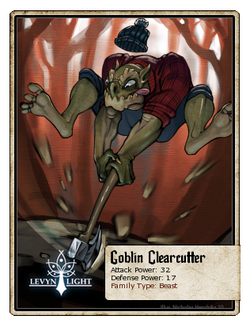 Zeruul's orders to destroy any unusual plant life baffle and anger the people of Ecorae, who view their plants and trees as treasured cultural heirlooms. Rather than address their concerns diplomatically, Zeruul uses these burly goblins to enforce his strange forestry laws. Like most Goblins, the Clearcutters aren't quite sure why they're chopping down lots of trees, but they sure enjoy the chopping part.
First Appearance: Chapter 5
Attack Power: 32
Defense Power: 17
Critical Chance: 3%
Traits: None
Loot:

Superior Energy

Sturdy Branch
Gold:

37 - 49
Energy Preference:
None
Alternative Version(s):

Goblin Deforester(shared artwork)
Badges:


1

10
100
250
Ad blocker interference detected!
Wikia is a free-to-use site that makes money from advertising. We have a modified experience for viewers using ad blockers

Wikia is not accessible if you've made further modifications. Remove the custom ad blocker rule(s) and the page will load as expected.