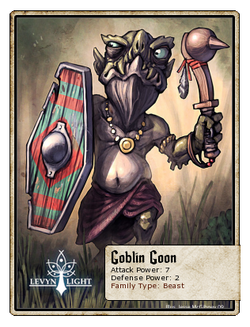 Goons lurk in the shadows waiting for the perfect ambush opportunity. Their menacing face can scare unsuspecting opponents.
Location(s): Mangled Forest, Forest Hideout
First Appearance: Chapter 1
Attack Power: 7
Defense Power: 2
Critical Chance: 7%
10% chance of Ambush (+4 Attack)
Goblin Goon jumps from the trees in a sudden ambush.
10% chance of Scowl (+4 Defense)
Goblin Goon startles you with a terror-filled scowl!
Loot:

Goblin Captain Energy

Knobby Cudgel
Gold:

4 - 8
Energy Preference: None
Badges:


1

10
100
250
Ad blocker interference detected!
Wikia is a free-to-use site that makes money from advertising. We have a modified experience for viewers using ad blockers

Wikia is not accessible if you've made further modifications. Remove the custom ad blocker rule(s) and the page will load as expected.