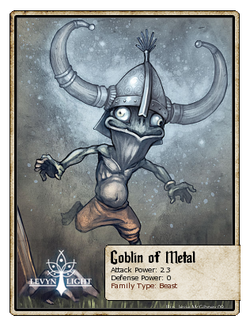 This strange Goblin somehow channels the elemental powers of metal.
First Appearance: Chapter 3
Attack Power: 23
Defense Power: 0
Critical Chance: 3%
10% chance of Shrapnel! (+50 Attack)
Goblin of Metal releases a burst of shrapnel!
Loot: 10 x
Enchanted Energy
Gold:

1250 - 1500
Energy Preference:
None
Alternative Version(s):

Enchanted Goblin

Goblin of Earth

Goblin of Fire

Goblin of Water

Goblin of Wood
Badges:


1

3
5
10
Ad blocker interference detected!
Wikia is a free-to-use site that makes money from advertising. We have a modified experience for viewers using ad blockers

Wikia is not accessible if you've made further modifications. Remove the custom ad blocker rule(s) and the page will load as expected.