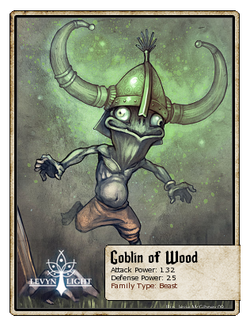 This strange Goblin somehow channels the elemental powers of wood.
First Appearance: Chapter 14
Attack Power: 132
Defense Power: 25
Critical Chance: 3%
32% chance of Knock on Wood! (+18 Attack)
Goblin of Wood gets a lucky hit in!
Loot: 15 x

Dragon Acid, 10 x
Ultra Volt
Energy Preference:

Static Volt
Alternative Version(s):

Enchanted Goblin

Goblin of Earth

Goblin of Fire

Goblin of Metal

Goblin of Water
Notes: This is a rare character with a 1/700 encounter rate [1].
Badges:


1

3

5
10