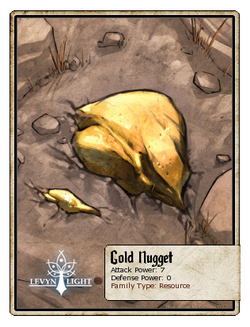 This precious nugget of gold is worth its weight in pressed gold coins. It's hard to find, a most of the bits are small and petty, but a good haul can bring in good money.
Beware: the Dredger enjoys weaving stories and has a keen eye. He may attempt to claim your bounty as his own !
Location(s): East Core Quarry, Aznor's Clearing
First Appearance: Chapter 2
Attack Power: 7
Defense Power: 0
Critical Chance: 0%
10% Chance of Fool's Gold (+13 Attack)
Don't try to pyrite THIS rock.
Loot:

Emeralite Shard

Whitestone Shard
Gold:

1 - 75
Energy Preference:
Mining Energy
Notes:

Gold Nugget drops more significantly gold than the rest of the characters in East Core Quarry.
Badges:

1

10
100
250
Ad blocker interference detected!
Wikia is a free-to-use site that makes money from advertising. We have a modified experience for viewers using ad blockers

Wikia is not accessible if you've made further modifications. Remove the custom ad blocker rule(s) and the page will load as expected.