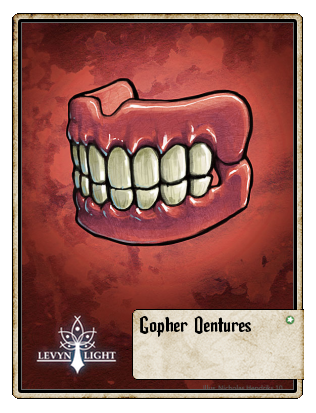 Nothing could be more convenient than these surrogate chompers. Now, you can bite your enemies as hard as you like, with none of the unpleasant aftertaste!
Type: Support
Critical Chance: 0%
37% Chance of Chomp (+4 Attack vs Beast)
You snap Gopher Dentures closed on __________'s rear end!
88% Chance of Tooth Toss (+4 Attack)
You grab _________ with your gopher dentures and fling them away!
Required Level: 1
Sell Value: 805
Obtained By: Random loot from Grin Gophers
Ad blocker interference detected!
Wikia is a free-to-use site that makes money from advertising. We have a modified experience for viewers using ad blockers

Wikia is not accessible if you've made further modifications. Remove the custom ad blocker rule(s) and the page will load as expected.