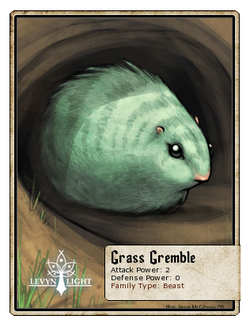 In the wild, Grass Gremble are at the very bottom of the food chain. Their round body shape and short legs prevent them from running particularly fast, their teeth are only good for clipping grass (which explains their lovely green coloring) and they live in large, bountiful colonies. Luckily, these traits also make Grass Grembles very desirable pets. Little girls and boys just love them, because they're cuddly, friendly and greatly enjoy raisins.
Location(s): Esert Village, Hedge Valley, Training Camp
First Appearance: Chapter 1
Attack Power: 2
Defense Power: 0
Critical Chance: 0%
25% chance of Adorable Stare (+1 Attack)
The Grass Gremble looks up at you with its sparkling eyes and twitching nose, and its cute face makes you drop your guard a little.
Loot:
Three Leaf Clover

Sturdy Branch
Gold:

4 - 8
Energy Preference:
None
Alternative Version(s):
Grass Grembling (future)
Badges:


1

10
100
500
Ad blocker interference detected!
Wikia is a free-to-use site that makes money from advertising. We have a modified experience for viewers using ad blockers

Wikia is not accessible if you've made further modifications. Remove the custom ad blocker rule(s) and the page will load as expected.