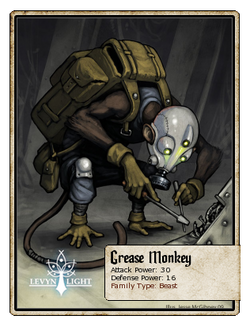 Using their dexterous digits and curious intellect, these mechanically inclined primates are all too happy to perform fixes, adjustments, tweaks, and modifications to any technological gadgets they happen to come across.
First Appearance: Chapter 5
Attack Power: 30
Defense Power: 16
Critical Chance: 5%
52% Chance of Modify (+5 Attack)
Grease Monkey quickly makes some field modifications!
7% Chance of Lost Parts (-9 Defense)
Oops! Grease Monkey accidentally loses some of the tiny parts he needed!
90% Chance of Security Charm (+10 Defense vs Enchanted)
Grease Monkey is secured from all enchantment by its master!
Loot:
Gadget
Gold:

34 - 52
Energy Preference: None
Badges:


1

10
100
250
Ad blocker interference detected!
Wikia is a free-to-use site that makes money from advertising. We have a modified experience for viewers using ad blockers

Wikia is not accessible if you've made further modifications. Remove the custom ad blocker rule(s) and the page will load as expected.