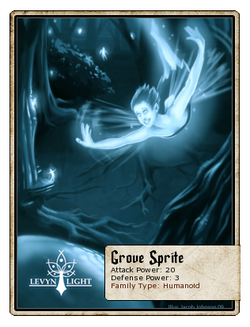 The physical spirit of the forest, the Grove Sprite bursts with pure life and energy drawn from its surroundings.
They directly reflect the liveliness and well being of their home environment.
First Appearance: Chapter 3
Attack Power: 20
Defense Power: 3
Critical Chance: 3%
27% chance of Floral-Aide (+4 Attack vs Strong)
Flowers, shrubs and all the plant life in the area reach up to grab you, holding them in place!
53% chance of Empathy (+7 Defense)
Grove Sprite embodies the spirit of the natural forest, and you, struck with deep empathy, will not attack.
2% chance of Regrowth (+12 Defense)
Grove Sprite summons the regenerative powers of the forest.
Loot:

Energy-Binding Arrowheads

Whitestone Shard
Gold:

25 - 33
Energy Preference: None
Badges:


1

10

100
250